Course details
All 8 items 120 minutes with all you can drink! Okinawa black pigs Ahoo Yanbare island pig pig kimchi pot course 【4,000 yen】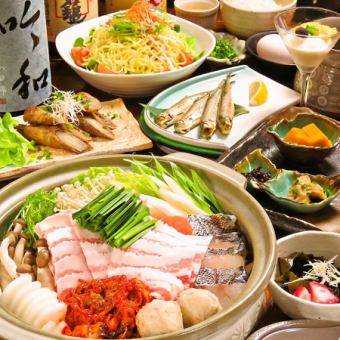 By using a coupon4000 yen
tax included
All-you-can-drink available

You can drink all the drinks of ★ mark at +500 yen! LO 20 minutes ago We will correspond only to customers who have ordered course dish.
Reservation deadline

2 days before arrival date 17 o'clock
Available days for reservation

Monday - Sunday - Public holidays - Holidays
Course menu
◆ First aid ◆
◆ Salad ◆
◆ Vinegared ※
◆ Pottery (meat) ◆
◆ Seafood charcoal grill ◆
◆ <Black pig pigeon from Okinawa Prefecture> Kunibarushima pig pig kimchi pot ◆
Please relish the royal road of winter pot made with luxury brand pig!
◆ Autumn sashimi noodles or miscellaneous dishes ◆
You can choose whichever you like!
◆ Dessert ◆
All-you-can-drink menu
·beer
· Barrel Asahi Super Dry <Jockey Pitcher>
·Highball
· Bulk filled Black Nikka High Ball / Ginger High Ball / Cola High Ball
· Takahi / Shochu High
· Garituchu / Oiciw / Lemon Sour / Lime Sour / Blue Apples Sour / Sequacer Sour / Grapefruit Sour / Calpis Sour / Oolong Hi / Green Tea High / Turmeric Brown High
·Cocktail
· Cassis Soda / Cassis Oolong / Cassis Orange / Cassis Grape / Kuyanyan / Fuzzy Navel / Moscow Zoo / Bulldog / U-Ku Driver / Shandogaf, Black Eye / Cassisubia / Japonnail / Cassis Musume / Salmon · Kiel · Royale / Kiel / Operator / Carimocho / Kitty
· Japanese sake <cold wine>
· Seki Kozumi in the West ~ Oita Prefecture ~ Mine Noba Umeshira jun rice ~ Niigata Prefecture ~ ★ Drunkori Sakura Jun Rice Ginbir ~ Kochi Prefecture ~ ★ Spring Deer Jun rice Super Dry ~ Nara Prefecture ~ ★ Snow Fielder Jun Rin Ginju ~ Hokkaido ~ ★ 羽 羽 桜 Oka Hana Ginjo ~ Yamagata Prefecture ~
· Sake <Sake>
· Collection of heavy snow ~ Hokkaido Limited ~ 1 joint
· Awamori <Rock · Water split · Hot water splitting>
· Remaining wave 25 degrees ★ Spring rain curry ★ Dragon gold
· Fruit liquor <Rock · Water split · Hot water split>
· Akei Plum wine, Yuzu
· Shochu <rock · water split · hot water split>
· Wheat Ginryu Genkai <Toto> ★ Mitake ★ Red Kirishima ★ Tomo Hometobasan ★ Akane Kirishima ★ Kiba Black Turtle Feed ★ Aged Fresh Wine Bright Farm Village ★ Alligator Total Volume Bright Farm Village ★ Kura no Mori Soul Iomomo Black Kirishima <Shiso> Kozue Tan <Armor> Miramoku
· Whiskey <straight, rock, water split>
· Takeshi ★ Yoji City
· Glass wine
· Red wine / white wine
·Soft drink
· Orange juice / grapefruit juice / ginger ale / cola / oolong tea / green tea / turmeric tea / slime tea
Coupons that can be used with this course
2018/12/04 update